Since our German automotive friends invested €10 million, we have been working hard to prepare everything for production. And today, its official: we've signed our production contract and are now designing and manufacturing in the Netherlands!
Besides our 100% focus on getting to production, we need to prepare for the next step in our masterplan. For this we're launching our Etergo Funding Portal May 14th, here you can buy share certificates in our company and become part of our community.
From €10
Read all about our progress and much more below
Update Summary
Click on the picture or read more… to jump to that section.
Improved frame lay-out and increased reliability, quality, serviceability
read more…
First leadership roles hired & new office and workshop on track
read more…
Signed Production Contract and updated Project Planning
read more…

Won 2 awards at CES, got 2nd place at GITR and 30+ press features
read more…
Country Overview
Availability Pre-Orders & Investing Options
Below you can find the updated (April 2019) overview of the availability of pre-orders and investing options in your country. We will be rolling out country by country and gradually speeding up to ensure we grow sustainably and can focus on the quality of our service and product.
Updated: April 2019
CROWDFUNDING – MAY14th
May 14th we launch our funding portal where you can become part of our community
May 14th we launch our Etergo Funding Portal so you can buy share certificates in our company. You will join our Etergo Investor Community of 2400+ investors and get exclusive access to our AppScooter Investor Edition, special events and benefits.
More details below, but here the rules of our new crowdfunding round:
Private Early Access for a better share price (click here to pre-register)
Limited amount of share certificates per tranche
Share price increases per tranche
Since we want to give those who join earlier a better deal, the share price increase steeper in the first tranches.
Investing entails risk. Read our prospectus before investing.
A summary of risks can be found below
ETERGO FUNDING PORTAL
WHY WE BUILT OUR OWN FUNDING PORTAL
We have launched 3 very successful crowdfunding campaigns over the past 3 years. For the first 2 we used Leapfunder and for our last campaign we used Seedrs and on both we broke pretty much all previous records.
We're super glad to have been able to use these platforms to get not only our first funding, but also to grow our network of dedicated fans, industry experts and help to scale our startup. This wouldn't have been possible without them and we can recommend any startup in their early phase to do the same.
However, we've also listened to all your feedback during these campaigns and tried making things easier and more transparent for all of you. We integrated all these learning in the first version of our portal.
Below we listed the main reasons for doing this:
Direct, clear and transparent lines of communication with us and centralising all investor communications
Build our Etergo Community and allow our investors and customers to actively participate in our next product decisions and feature suggestions
Money transferred = money usable. No 3-8 month delays. The day you transfer, is the day we can use it to grow the business, which increases your ROI
Save expensive % fees that go to an external platform and increase your ROI. We can now spend every € that comes in on the business itself.
We can keep the campaign going for longer where needed, which is more inline with our longer timelines as a hardware startup
Repeatability: we can relaunch an updated campaign in days instead of half a year, at a fraction of the cost and preparations
Actually investing is much simpler and transparent for investors and can be completed in less than 2 min.
It forces us to be completely AFM compliant, which increases the transparency and accountability of us towards you as our valued investors
It's a great preparation for a potential IPO somewhere in the future
AFM Approved Prospectus
Last year we were limited in the amount of funding we raised by EU law and even had to give back €200k because our campaign was oversubscribed. Therefore, this time we decided to create a prospectus, which has already been approved by the AFM (Dutch Authority Financial Markets). With a prospectus we are allowed to raise more than 5 million in order to scale our company and prepare for the next step in our master plan.
Investment Risks
Before investing in the Share Certificates (legally defined as: Depository Receipts), prospective investors should consider carefully the following risks and uncertainties in addition to the other information presented in the Prospectus.
Risks Relating to the Etergo's Industry, Business and Operations:
A downturn in the markets in which Etergo operates (as well as other markets around the world) could adversely affect Etergo's business. Etergo is active in a market in development.

Technological limitations of electric vehicles.

Market size of vehicle class dependent on legislation.

Scooters banned from certain cities or parts of cities.

Etergo may be unsuccessful in efforts to expand the international reach of its product.

Product recalls and warranty obligations may result in direct costs, and loss of scooter sales could have material adverse effects on Etergo's business.

Financial results may vary significantly from period-to-period due to the seasonality of Etergo's business and fluctuations in operating costs.

Etergo is dependent on its reputation for financing.

Third parties might accuse Etergo of infringing their intellectual property rights.

Etergo is active in a limited number of sectors.

Etergo depends heavily on the future success of the AppScooter and has no track record.

Etergo depends on its relationships with suppliers.

Risks relating to the Etergo Depository Receipts and the Offering:
Bart Jacobsz Rosier and Marijn Flipse are board members of the Issuer and Etergo.

Etergo may not be able to pay dividends in the future.

The transfer of the Depository Receipts is subject to restrictions. Investors may therefore not be able to sell or otherwise dispose of their Depositary Receipts and/or to sell their Depositary Receipts for the price paid for them.
This blog post is an advertisement, not a prospectus. Investment in Etergo should only be made on the basis of the information contained in the prospectus available to download on http://etergo.com/prospectus

Neither the Prospectus nor any other information supplied in connection with the issue of the Depository Receipts constitutes an offer or invitation by or on behalf of the Issuer to any person to subscribe for or to purchase any Depository Receipts in jurisdictions where it is unlawful to make such offer or invitation.
PRODUCT
Improved frame lay-out and increased reliability, quality and serviceability
During assembly, servicing, stress testing analysis and benchmarking we identified various subsystems which needed to be improved to meet our stringent reliability, quality and price targets.
Therefore, we have redesigned part of the structural internals in AppScooter to be able to handle higher peak loads, increase wading depth, better protect crucial components, make it easier to assemble, drastically improve serviceability and increase lifetime reliability in environments with larger temperature fluctuations that are an essential part our market.
We were able to further standardise the assembly operations through increasing component modularity and improving accessibility within the frame. These standardisations lower the investment needed on our production line for our current and future products. They also simplify the amount of different part streams we need to manage in our manufacturing and after sales supply chain. Last but not least, they reduce the time required to replace certain components during servicing.
We were also strongly advised to physically split up the cockpit electronics into two modules to make it cheaper to service, more reliable in operations and reduce production costs. One module runs all the vehicle critical systems such as the drivetrain and critical status indicators. The other module runs Android and powers the touchscreen. Both have been moved into the frame to make more room in the cockpit for the wiring loom and headlight heatsink and significantly lower the risk of them being stolen. We already split these up electronically, but production & service experts in combination with testing and simulations showed splitting them up physically was needed. Besides also reducing cost, if either would ever need replacing, you would only need to replace that part which is faulty, greatly reducing serving cost for our customers.
PLANNING & PRODUCTION
Production Contract Signed, now Officially Designed
and

Manufactured in the Netherlands!
After many months of working on vetting over 60 contract manufacturers, traveling around the world to see those who made it to our shortlist, we finally ended up back in our own backyard and couldn't be happier about it! Today we can officially announce we will not only be designing, but also manufacturing our products in the Netherlands.
This is a big step for us to solidify our production schedule and ensure we deliver a product that we truly believe in and fully stand behind. A product of great quality, exquisite design and unparalleled performance. A product you can fall in love with. We already have, now we have secured the place where we will give birth to our baby and give it to you.
Having production in the Netherlands has many benefits. Among the first is obviously location. Being able to travel there by car in about 2 hours allows any of our engineers or manufacturing experts to support the entire production process from buying the right equipment to solving time crucial problems that are pretty much guaranteed to come up.
We were able to keep the price competitive here, mainly due to reduced logistics cost, faster delivery times, a solid well worked out proposal and backing from the regional government. Overall this location and experienced partner ended up scoring the best in all categories.
Start signing all production agreements with individual component suppliers to further solidify production planning
We've increased the output of engineering in the past months through the effort of highly talented and experienced engineers that joined us and through the overall maturation of the department. We're now in the last stages of finalising all input our suppliers need to be able to start making the molds for production. This means we have deadlines every single week for every department involved in the AppScooter project. Engineering has deadlines in development and supporting creating all technical specifications, Purchasing in coordinating all the suppliers and Finance & Legal in making sure we sign good contracts on time.
With our production partner in place, we're finally able to further solidify our production schedule. The coming weeks we will start the last steps in this when we're signing all the contracts with our Tier 2 individual component suppliers to secure those production dates. Since this involves over 40 parties in various locations in the world and needs to be extremely well scheduled and executed together will all engineering activities, this will take a significant amount of our time, focus and energy in the coming weeks and months. But, they will be some of our most rewarding moments where each single part will reach its final specification freeze and go through the last stages of tweaking it together with the secured suppliers.
In our updated planning we've included the latest information from the contract manufacturer, all information we have from individual component suppliers and ensured time for well defined testing & validation so we deliver a product that meets the quality standards you should expect from us and can be reliably delivered and used in our key markets.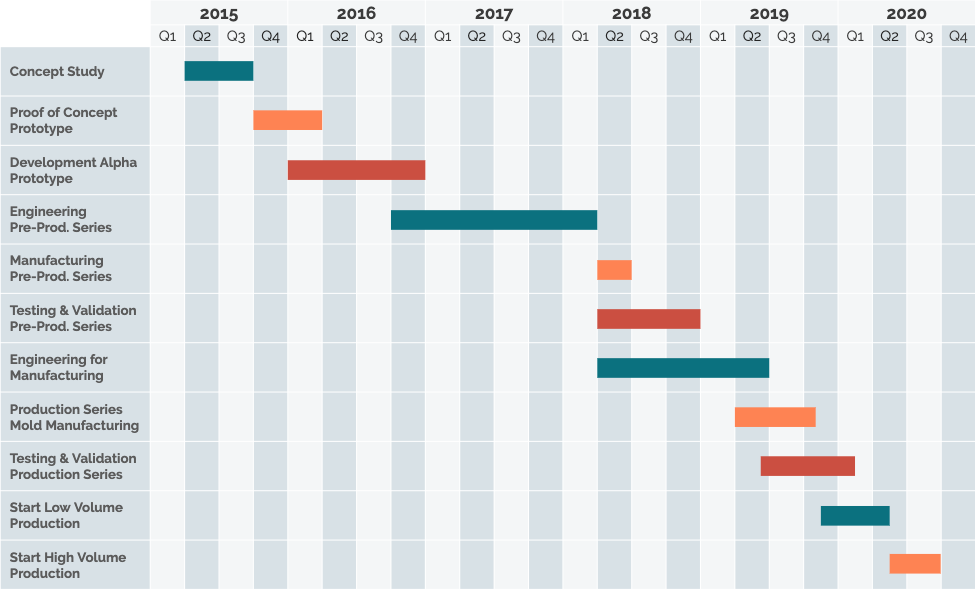 Important: Delivery dates as put on our website are estimated delivery dates. With a proper engineering project management organisation in place and the right structure and processes maturing, we now have better control over our timelines. However, we're also in a large part dependent on our supplier base and test results. Current tests are going mostly as planned and we've almost all of the people in place to be able to to get as close to our target dates as possible, but there will likely be things we have not yet foreseen. We have tried to include the contingencies in our planning, but since this is our first product and our organisation is still being built while we're moving forward at full speed, there remains a larger degree of uncertainty in the planning than compared with an established large automotive company. Thanks for your understanding and continued support in helping us create and deliver products that you can fall in love with.
HOMOLOGATION PREPARATIONS
Planning component CE certifications with part suppliers to prepare for type approval
Last year, we achieved individual type approval on our prototype series, which was a great milestone and already gave us a lot of pointers and handles we needed to understand the process of getting our vehicles approved to drive on the road.
To achieve high volume series homologation, it means that both our product and assembly line have to be approved by the RDW (the Dutch institute which is responsible for all vehicle road certifications). The latter is important to show to the RDW that we can produce compliant products in a consistent matter.
To pass all high volume homologation requirements in exact timing with our production planning, it is crucial that there are no last minute unexpected delays in any of the individual components and that they pass the tests as required to receive.
To increase the chance of passing this in one go, we are trying tackling many components earlier on with the help of our individual part suppliers by getting them CE certified individually. This way we minimise the risk of a potential delay towards production.
QUALITY MANAGEMENT
We've started the implementation of our ERP system
An important part of organising everything and implementing our Quality Management System to be ready for production a.o. is ensuring all large volume purchasing, quality, legal and financial controls are properly in place.
One of the things you need when processing a large amount of components per day in a production environment is an ERP system. This helps to ensure you can keep track of all orders, incoming parts, invoices to suppliers, approvals and a vast number of other "behind the scenes stuff" that is extremely important to not mess up.
These systems can sometimes become behemoths and take a life of their own in big corporates. Luckily we are still in scale-up land and had the luxury to pick a solution that is ideally suited for us now and in the next 3-5 years. After an in depth comparison we choose Netsuite as a great fit for us and have kicked off the implementation for this in the last few weeks. The entire implementation for this will take a few months, but we have a dedicated ERP consultant to help facilitate all the needed data transfer.
TEAM & FACILITIES
Hiring on Track for AppScooter & Leadership Team
We've successfully sped up hiring in Q1 and are getting closer to complete our go to market team.
We've hired the first of our senior leadership team with the addition of our Interim HR Director. Their experience helps us put all the right things in place that are needed to grow our organisation and ensure we create a great & scalable team culture.
We're already interviewing for the remaining director positions and over the next weeks and months, we expect to complete our senior leadership team.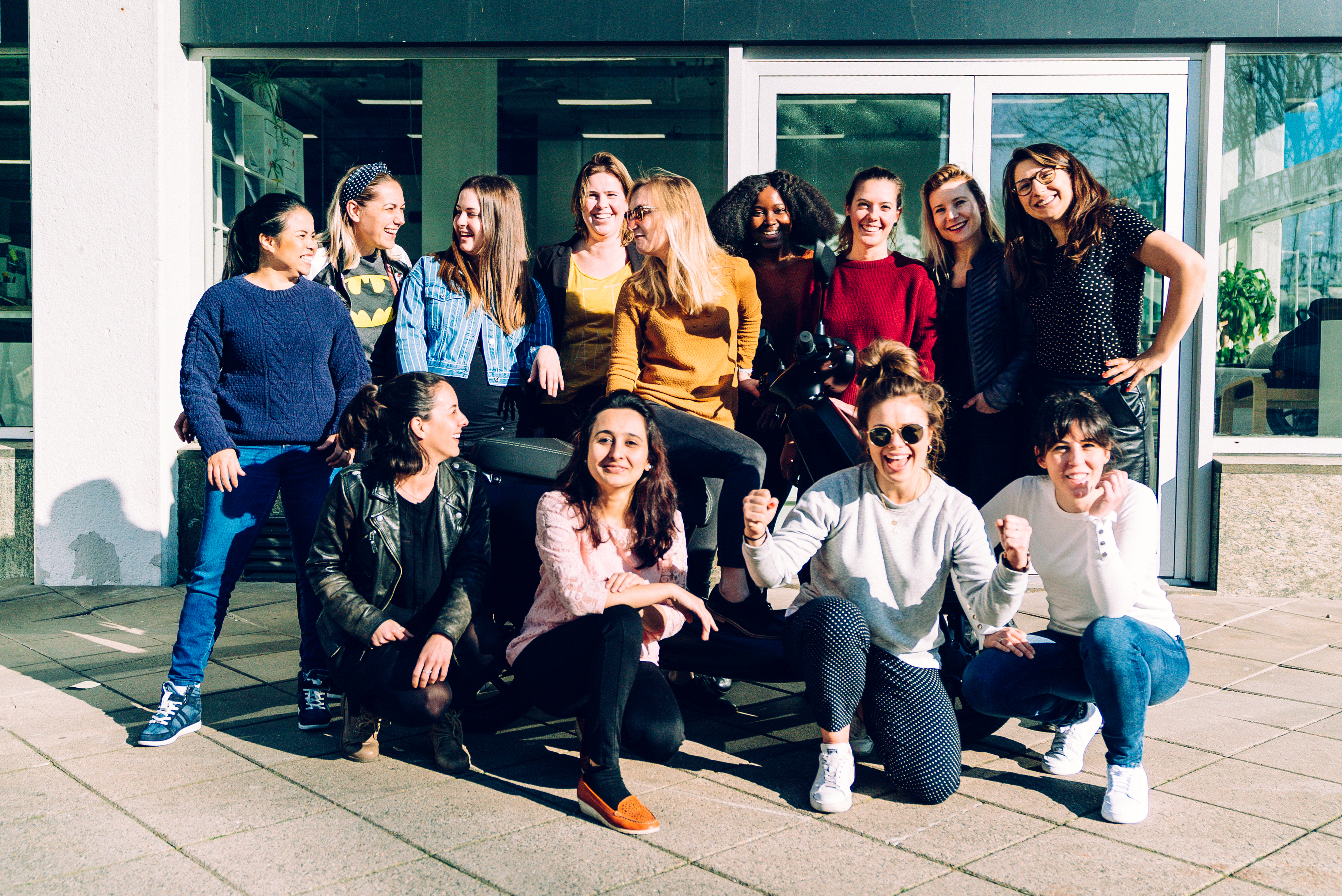 Slight headcount reduction go to market Org Chart
In the past few months, we've hired very talented and senior people from companies like: Tesla, Rimac Automobili (1.000HP Electric Car), NXP, Bosch and Flex (2nd largest contract manufacturer in the world).
In addition, we've worked hard on our organisational chart and the process and systems we can implement together with our investors and advisors and were able to reduce the total FTE needed for getting to market to about 100-120 people instead of the previously mentioned 150. So we expect to grow our company to around +/-110 FTE before the end of 2019.
Office & Workshop Expansion Well Under Way and in Time for Testing & Validation
Our temporary office is already becoming quite crowded, but luckily our office expansion is well under way. We are all very much looking forward to the addition of our much needed meeting rooms.
Below you can see the progress of our office and workshop expansion. In the next weeks and months, both projects will be finished by our contractors and ready for use.
OFFICE EXPANSION
WORKSHOP EXPANSION
The workshop is being upgraded with a dedicated metalworking room, complete with welding equipment for when our new frame upgrades will be delivered in a few weeks. These will be heavily used to test and further improve our new internal frame structure and mount the drive train on it. This will allow us to start testing all our drivetrain and battery updates we have been working on for the last months based on all the learnings from testing our pre-production series.
Looking to join the awesomest automotive startup in Amsterdam and want to have a real impact?
Join our awesome team! Do you know someone who might be perfect for the job? Click on any of the below vacancies to find more details and apply:
MARKETING
EVENTS
Below the events we participated in in the last few months. This year we will become already a bit more active with our local event appearances, make sure to stay tuned in the coming months to see our announcements for when we will be where.
CES Las Vegas – winning multiple innovation awards
Etergo was invited to showcase AppScooter with the Dutch delegation of startups at CES Las Vegas. We were chosen as one of the companies to represent the awesomest startups from the Netherlands at the Holland Pavilion.
CES is the biggest consumer electronics show in the world where thousands of top brands present their latest high tech consumer products to the press and the world. CES is a staple to be at to build up our network in international press relations and build a good PR foundation for our coming international expansion.
The event was a great success, with thousands of visitors at our stand asking when we would come to the USA and even winning multiple awards: the IHS Innovation Award and the Techstars Competition.
Get in the Ring – AppScooter gets 2nd place!
We were selected out of 200 startups to participate in the GITR pitch competition. GITR is a great event to get exposure and practice our pitching skills for investors and the press. Having not that much time to prepare, Marijn still managed to get us to a whopping second place!
rEVolution – enthusiastic response from electric vehicle experts
Our CEO Bart was invited as a speaker and participate in an in depth panel discussion with Carver CEO Anton Rosier and FENIE ENERGÍA CEO Isabel Reija. There was a ton of interest from the audience and our ladies at the stand were working over time to help everyone to get their time with AppScooter up close and personal.
Great Press Coverage from our Event
CES was one of the best opportunities to build our international PR network, which resulted in over 30+ press features from leading international media outlets. Some quotes which we were particularly proud to receive:
"Best concept ever seen in scooters, I have seen many e-scooters like Unu and I drive a Vespa. AppScooter's design is really good with an amazing entertainment display. And, it's definitely worth it's price." – Computer Bild
"The scooter impresses on nearly all fronts. It has an uncharacteristically large storage space underneath the seat and there's a beautiful dash command center with native navigation, messaging and music controls. It's a thoughtfully designed scooter." – Coolhunting
"People fall in love with the sophisticated design and feel safer with AppScooter, which happens to be electric. It's a win for both consumers and the environment." – Go-zero
Want to become an AppScooter influencer?
We are preparing our campaign for the countries where we will be launching and have opened applications for those of you with more than 10k followers to become an AppScooter influencer! Interested to earn your way to a free AppScooter?
More than 10k followers? Apply to earn a free AppScooter
FAQ
Investing in etergo
I am interested in investing, is this possible?
Yes, we're now open for those who've pre-registered. You can now invest via our Etergo Funding Portal.
What will I get for investing in Etergo?
For your investment in Etergo you'll get share certificates in Etergo (see prospectus for legal details). Etergo is the company that holds all IP, employees, contracts, etc. In addition, you'll receive perks, such as exclusive access to our AppScooter Investor Edition, special events and benefits from certain amounts. The perks can be found on the Etergo Funding Portal.
Do you already know what the share certificate price will be?
The real time share price can be found on the Etergo Funding Portal.
What are the countries I can invest from?
You can invest from the following countries:
– UK
– Netherlands
– Germany
– Portugal
– Italy
– Spain
– France
– Norway
– Belgium
– Lithuania
– Bulgaria
– Greece
– Sweden
– Slovenia
– Malta
– Croatia
– Austria
– Cyprus
– Ireland
– Romania
– Finland
My country is not on the list, but I'd still like to invest, what can I do?
If your country is not on the list, please send an email to invest@etergo.com and indicate your name, the amount you would like to invest and your country of residence. Our legal team will check if we can accept your investment y/n.
What if the tranche closes while my payment is still pending?
If the tranche closes while you are in checkout or if your transfer is still underway or if your payment is still pending, you still receive the share certificates at the share price of the old tranche that was active when you pressed the payment button (and finished the checkout). So this is a benefit for you to invest a bit more earlier.
What if my investment is larger than the remaining tranche?
Example: there is one €100.000 left in the current tranche and you are investing €250.000. You get the entire €250.000 for the share price of the tranche that was active when you pressed the payment button (and finished the checkout). So this is a benefit for you to invest a bit more earlier.

HOW DO I CALCULATE MY EARNED PERKS FROM REFERRED INVESTORS?
How much did Etergo raise already and from whom?
On top of getting Perks from investing yourself, you can earn Perks by referring friends to invest. You get 50% additional Perks from friends who invested through your unique referral link. Below you can read how this works.
Important definitions:
Invested Amount is the amount you invest yourself.
Share Certificates = Invested Amount / Share Price at checkout.
Referred Amount is the total invested by your friends through your unique referral link.
Perk Amount = Invested Amount + (50% x Referred Amount)
Example A: The share price is €0,33. You invest €5.001,15 yourself. You refer 10 friends that invest a total of €40.009,20 through your unique referral link.
Your Share Certificates = €5.001,15 / €0,33 = 15.15 Share Certificates
Your Referred Amount = €40.009,20
Your Perk Amount = €5.001,15 + (50% x €40.009,20) = €25.005,75
This means you receive the Perk Rewards from the €25.000 investment level. Your 15.155 Share Certificates remain the same.
Example B: The share price is €0,40. You invest €1.000 yourself. One of your friends invests €2.000 and another friend invests €8.000. Both invest using your unique referral link.
Your Share Certificates = €1.000 / €0,40 = 2.500 Share Certificates
Your Referred Amount = €2.000 + €8.000 = €10.000
Your Perk Amount = €1.000 + (50% x €10.000) = €6.000
This means you receive the Perk Rewards from the €6.000 investment level. Your 2.500 Share Certificates remain the same.Important: Only investments done through using your unique referral link will count towards your Referred Amount.
You can find an overview of our funds raised below:
Questions about Pre-Orders, Testdrives and Deliveries
---
How can I pre-order AppScooter?
You can pre-order AppScooter by clicking here.
How much does it cost to pre-order AppScooter?
You can pre-order AppScooter by completing a downpayment of €290. Your AppScooter's final price depends on your configuration and options. The base price starts from €3.399.
Is my pre-order binding or can I cancel it?
Placing a pre-order will not legally bind you to place an order to buy AppScooter, and you can cancel your pre-order anytime before it has been converted into an order. If you cancel your pre-order within 14 days, the down payment will be refunded. If you cancel your pre-order after 14 days, the down payment will not be refunded.
When will I receive my AppScooter?
We'll start AppScooter deliveries in the beginning of 2020. However, for specific delivery estimates in your region, please select your city here. Note: We have a limited amount of AppScooters available per country. The sooner you pre-order, the faster you'll get your AppScooter.
My country is not available to pre-order yet, what about me?
You can subscribe to our waitlist and the more people in your region who subscribe (tell your friends about AppScooter!), the more likely your region is to be unlocked for AppScooter delivery in the future. When it is, you will receive an update letting you know that you can pre-order AppScooter in your area.
Is it possible to have a test drive?
Not yet. Soon, test drives will be available to those who have pre-ordered an AppScooter or invested in Etergo. You can pre-order an AppScooter here, and invest in Etergo by going here. The first test drive events will be exclusively for our first pre-order customers and investors, to be held in a yet to be announced location in the Netherlands. Test drive opportunities in other countries will be announced as they become available. Stay updated by liking and following us on Facebook, Instagram or Twitter.
Will I be able to order accessories with AppScooter?
We are currently focused on getting AppScooter series production started. We are also planning for accessories that will fit your AppScooter perfectly down the line. These accessories will include windscreens, topcases and other items to compliment your AppScooter even more.
Other questions?
Great! We love questions, feedback and getting your thoughts. For details on delivery, new investment rounds, servicing and more, check out the full Etergo FAQ. If you still want additional information, contact us via info@etergo.com. We're here for you.